Refer-A-Friend and Earn
Whenever you invite a friend to join ShopBack using your referral link, you'll both be rewarded with a $5 bonus! The reward will appear as a signup bonus in your friend's account when they sign up with your link, and you'll receive your bonus once your friend fulfills the requirements that unlock your reward.
But wait, there's more – you can earn an extra $4 thanks to ShopBack In-Store starting from 10 July, 19! There's a $2 bonus you earn when your friend links their first card (which has never been linked before), and another $2 when they make their first ShopBack In-Store purchase! In short, that's $9 for every friend you invite! Find out more here: https://app.shopback.com/sbgo-raf
Please note, you and your friend qualify for these rewards only if they are completely new to ShopBack and the $2 first card link bonus can only be redeemed if your friend uses the linked card to make their first ShopBack In-Store purchase and you have linked at least one card to your ShopBack In-Store before referring your friends.
The $2 + $2 referral bonuses only apply to signups via the APP. Friend signups via the web will not qualify their referrers the $2 + $2 referral bonuses.
P.S. We often have special Refer-a-Friend promotions with upsized rewards, so make sure you keep your eyes peeled to bag those bonus bucks!
The following is a non-exhaustive list of activities that are not permitted and that will disqualify you from earning referral bonuses: (i) self-referral, (ii) posting your referral link on any ShopBack merchant's Facebook or forum page, (iii) keyword bidding for the purpose of generating traffic to pages containing your referral link, and (iv) any similar activity determined by ShopBack in its sole discretion to be inconsistent with the purpose of ShopBack's Refer-a-Friend Programme. ShopBack reserves the right to alter the terms and conditions of this promotion. Any infringement of the above terms and conditions would result in the loss of all bonuses. Repeat offenses would result in the closure of your ShopBack account.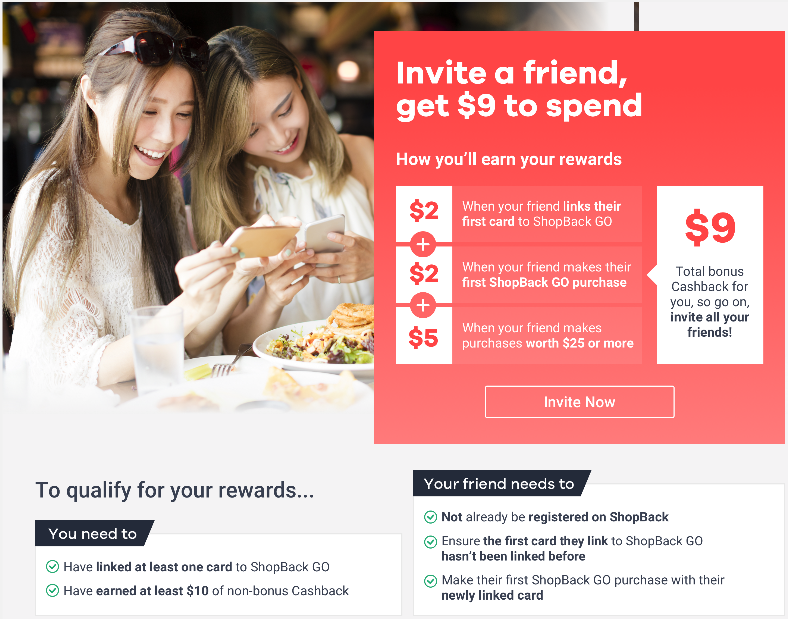 Can't find what you need? Reach out to us!