Good things are meant to be shared. Share the wins with your friends by referring them to ShopBack. You'll also earn a bonus when for each friend that joins and meets the bonus Cashback requirements. Everyone wins!
How to refer a friend
Your friend needs to sign up using your:
Unique referral link
Or unique referral code
Make sure your friend uses your unique link or code to sign up or you won't be able to receive the bonus.
To find your link or code, scroll to the bottom of your ShopBack app. You can directly copy the code by tapping on the Referral code or share the link via social media.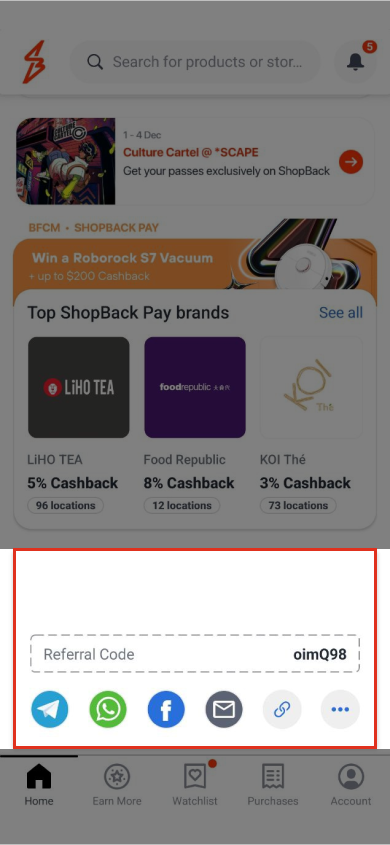 If you're using ShopBack from a browser, click on Refer a friend that's always available at the top of the website, next to your Cashback status.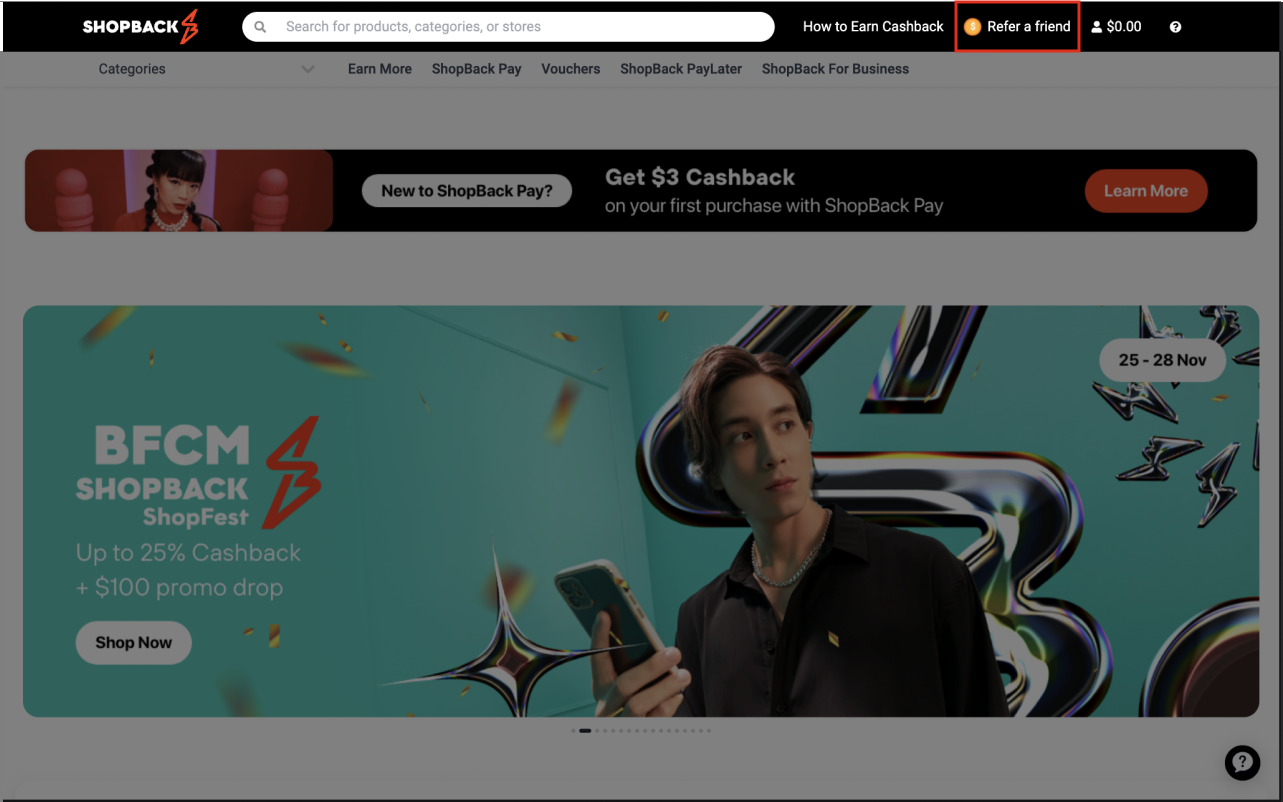 You can share your invite link or enter your friend's email address and we'll share it for you.
What you both get
If you're the referrer
First, make sure you add your Cashback withdrawal details to your ShopBack account.
You'll then get a $5 bonus for every qualified referral. A qualified referral means your referred friend has completed all of the following:
Sign up using your unique referral link or code.
Spend a minimum of $20. This is recognised when:

Cashback associated with all the relevant purchases is confirmed.
Or if it's a PayLater purchase, your friend has fully paid all instalments.
This confirmed $20 can be spread out through multiple purchases. Your referral bonus status will initially appear as Pending in both accounts once your referred friend signs up. It'll change to Confirmed not more than 48 hours after your referred friend meets all the requirements.
If you received a referral
You'll get a $5 bonus once you've completed all of the bonus requirements. You need to:
Sign up with your friend's unique link or code.
Accumulate $10 of confirmed Cashback or have $300 of fully paid PayLater orders.
Add withdrawal details to your ShopBack account.
What to do if you've received a referral link or code
Once your friend shares their unique link or code, make sure to sign up using that link or code. This is the only way we can track cash bonuses for both of you.
If you're received a link, tap the link to open ShopBack. It'll redirect you to your app store if you haven't downloaded the app yet. If you have, we'll apply the code for you so you can continue with your sign-up process as normal.

If you're received a link, open the link and go through the sign-up process.
If you've received their code, make sure to enter their referral code before creating a new account. Click I have a referral or reward code to enter the code

Refer-a-friend programme terms and conditions
Things to note
Your referred friend must sign up using a unique device (mobile, desktop or tablet) to prevent having their referral bonus forfeited.
Your referred friend's first purchase must not be stacked with other "new customer" promotions (including ongoing programmes such as "Everything at $1").
Except for PayLater purchases, any order that does not earn Cashback, or is cancelled, exchanged, or refunded, will not count towards the minimum spend criteria.
The following stores are excluded from the qualifying spend: Barnes & Noble, Brooks Brothers, Calvin Klein, Cyberlink, Kohl's, Lens.com, Mindvalley, Sierry Wall, and Airbnb.
Please note that ShopBack reserves the right to add or amend the list.
Some activities will disqualify you from earning referral bonuses. Here a non-exhaustive list of such activities:
Self-referral.
Posting your referral link on any ShopBack merchant's Facebook or forum page.
Disguising your referral link as a generic link and populating it within web pages.
Keyword bidding for the purpose of generating traffic to pages containing your referral link.
Any similar activity determined by ShopBack in its sole discretion to be inconsistent with the purpose of ShopBack's refer-a-friend programme.
ShopBack reserves the right in its sole and absolute discretion to amend and vary the terms and conditions of this programme as set out above, as well as to disqualify any users at any point of time. Any infringement of the above terms and conditions would result in the loss of all bonuses. Repeat offences would result in the closure of your ShopBack account.